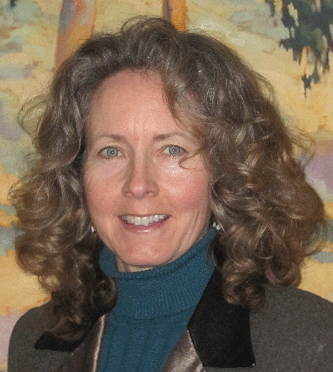 Certified Rolfer, Rolf Movement Teacher
Certified Feldenkrais Practitioner
Licensed Acupuncturist
Bones for Life practitioner
Pilates MAT instructor
Yoga instructor
Designed Clinical Nutrition using:
- Morphogenic Field Testing (MFT) &
- Nutritional Response Testing (NRT)
Kalyani Gilliam, LAc.
Kalyani has been in private practice in Carmel California since 1983.
She helps her clients rebalance toward wellness by employing a skill set that ranges from hands-on structural and functional bodywork to the energetic realm of acupuncture and muscle testing. As an alternative medicine practitioner she aims to address the cause behind the symptom - the source of imbalance. Kalyani's work steers you toward integration and optimal alignment of your whole system: the long-term best approach for healing chronic structural/functional pain patterns.
Kalyani has taught numerous workshops and intensives in the art of moving well and effortlessly. She offers Feldenkrais, Bones for Life and Pilates MAT lessons in a variety of formats: weekly classes, workshops, semi-private as well as remote lessons that occur in the privacy of your own home. Her teaching style is playful and sincere. She's able clearly convey to students how to engage and claim access to their own movement intelligence thereby becoming their own best healer.
In 2008 she added nutritional assessment to her practice using Morphogenic Field Testing (MFT) and Nutritional Response Testing (NRT) to clarify her client's unique nutritional needs. These techniques offer highly specific nutritional guidance in order to be able to make the choices necessary to provide the foundational elements your body needs to successfully reproduce itself year after year.
Training
Massage certification Monterey Institute of Touch, Monterey CA. 1983
Touch For Health Levels 1, 2 and 3 1984
Structural Rebalancing Training, Rajneeshpuram, OR 1984
Certifed Rolfer , Rolf Institute, Boulder CO, 1986
Rolf Movement Teacher , Rolf Institute, Boulder CO, 1990
Pilates MAT training, Carmel, CA 1991
Movement Integration training, Osho Ashram, Poona India
Masters in Traditional Chinese Medicine, Five Branches Institute, Santa Cruz, CA 1997
California State Acupuncture Licensure
Feldenkrais Practitioner Certification, Berkeley CA 2003
Bones For Life Practitioner training by Ruth Alon, BFL Founder 2007-continuing
NRT & MFT Training, Clearwater FL and Standard Process, Alameda, CA 2008-continuing
Integration Is The Key


By Kalyani Gilliam
In my early 20's I sought out a Rolfer to help me with chronic knee pain. I was fortunate, at that early age, to have heeded the call to pay attention to my body. Not born into athleticism or with legs that had a healthy genetic history of alignment, my journey was steered toward learning how to be pain free with high function.
Pain communicates a need for improvement. Discovering the path(s) that take you there is the journey. "There are many roads up the mountain," sages say. This website describes five possible pathways to help you along your way: Rolfing, Feldenkrais, Bones For Life, Acupuncture, Nutritional Assessment (MFT & NRT).
This section tells the story of how I've come to blend those skills to support my well-being.
********************
My initial Basic Rolfing 10 series improved my alignment such that my knee pain disappeared. I was so impressed and thankful that such progress could be had naturally that I decided to learn the technique.

In my first year of practice poor body mechanics brought new challenges. It wasn't long before I'd need a session nearly every time I'd give one! This need introduced Movement Education to me: How to do my daily tasks in a way that strenghtens and supports me? It was realistic to expect to I feel better after a day using my body well.
The Rolf Movement Teacher's training helped me transpose my newly found structural alignment into correct biomechanics. It became clear that EVERY daily action I made was an opportunity to maintain my new organization.
You see, Structure-Creates-Function and Function-Creates-Structure. Recognizing this circle relationship made it easier to remember that discomfort is THE CUE to notice how I was moving my body and improve it so the message of discomfort disappeared. The Rolfing/Movement education had given me the tools to achieve this. I fondly remember the first time I corrected my body use and immediately erased the pain signal in my knees. I felt empowered to steer my healing and my interest in this work blossomed.
Understanding Multiplied
Years later while on sabbatical at the Osho ashram in Poona, India I discovered a "movement integration" class: Lying on floor mats the Feldenkrais practitioners verbally directed us through simple, precise movement sequences with quite a bit of rest in between each directive. I wondered how so simple a process could be profound. I enjoyed the sense of relaxation, but I wasn't sure change could be had in such a gentle way.
After the ATM (Awareness Through Movement) Lesson we stood to sense any differences in ourselves. It was a pivotal moment where my perception of Bodywork morphed from a black/white photo to a 4-color movie. Such effortless balance and ease in standing…received with so "little" effort! I had experienced results like this but only after some pretty focused hands-on work with another practitioner. This occurred by my own doing guided by the words of a practiced Feldenkrais teacher. Astounding!
Moshe' Feldenkrais is oft quoted: You can't go where you want, if you don't know where you are." Most of us are fairly ignorant when it comes recognizing and responding to the signals that our bodies give. Refining one's sensitivity is a essential, persuasive pathway to sustained well-being: Like calibrating your antennae for a more accurate reception:
Where is the weight in your two sits bones as you read this? Do they feel balanced or tilted? If tilted,
maybe that could have something to do with your back/neck pain? Have you ever thought about your
sits bones?
Or: As you breathe do you sense movement in all the dimensions of your ribcage? If not, which parts participate? Which do not? When did you last experience of a fully functioning rib cage, an easy breath,
full and vibrant?
Sensing and learning to listen to the messages of your body, your unique personal teacher, will always correctly guide you to wellness.
Pain arises after other, more subtle, signals have gone unnoticed. Discomfort is a practical tool; it's gets your attention. When you're ready for the focused work needed to upgrade your system, you're ready to tune in to your innate movement intelligence. Clients who work with me develop this skill that guides them toward wellness.
Optimal biomechanics has very little to do with force or will and everything to do with awareness. Access to the foundational support that comes from the ground up through an organized skeleton enables you to creatively utilize that natural force. Clenched back muscles and tension are the tell-tale signs that this relationship is lacking. Physical alignment is a dynamic reality. The fact that we all get stuck and stagnant in our bodies exemplifies the fact that we've lost continuity and our connection to our ability to flow.
We start from what is hurting: knee pain, neck strain, some history of injury. My individual sessions blend the structural focus of the Rolfing matrix with the functional movement work of the Feldenkrais Method®.
Most of us are learning that the flow of life is our nature. The metaphor of the physical proves this time and again. When a structure aligns with gravity there is a senses of ease and balance. the physical experience of easy, floating, and powerful. Think about it. What is balance? If you feel any one muscle group engaging that means it is doing more work than the others. When all the muscles around a joint work in harmony, in balance, the experience is an easy sense of freedom, flexibility and lightness.
When your joints interact in a harmonized way that allows power from the earth to transmit freely head to toe. With every step, a well-distributed force through your structure is what continues to improve your alignment. It provides the organizing signal your brain needs to tell your muscles how to engage; and that flowing pressure through your bones informs them how to strengthen.
The yin martial artists know this. The qigong masters know this: Lock up any joint and the qi stops flowing. The healing power is lost.
As the work progresses with clients, the emphasis shifts quickly away from simply releasing stuck tissue to refining correct function. It's what we do everyday that creates our patterns. We must learn to do what we do…WELL.
Western culture has been indoctrinated to believe that life is hard, that the aging process is a downward spiral of physical misery and a variety of things we are told about how to hold the body, how to posture ourselves. What we have learned in the somatic arts in the past few decades is disproving these ideas as myth.
After a decade of this work, I noticed that many clients needed support in other areas of their health. Things such a digestion, emotions, breathing and lack of energy were influencing the results that were possible.
I wanted other tools in my kit.
Not being enamored with Western medicine I chose to study Traditional Chinese Medicine. Acupuncture regulates and balances the body's energetics. And, indeed, this is what is appropriate at times.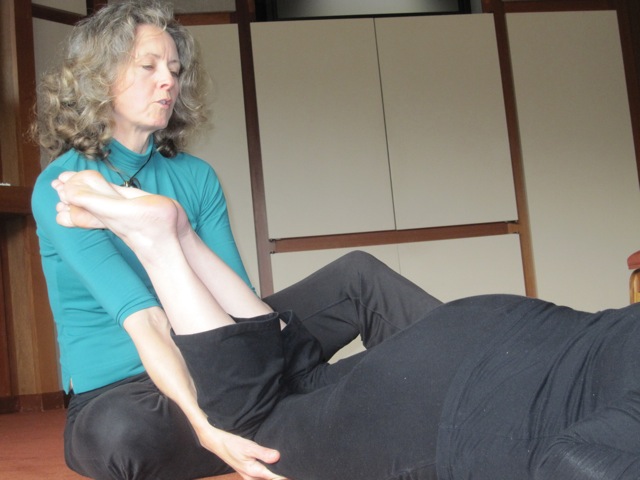 After giving birth at age 46 the essential importance of good nutrition and supporting my body's ability to rejuvenate took on a higher interest. I'm fond of saying to my clients/students: "You are given free the first 1/2 of life, you EARN the 2nd half."
No longer can you ride on your laurels re: nutrition. This began the latest addition to my skillset: Designed Clinical Nutrition using two amazing systems of muscle testing: MFT (Morphogenic Field Testing) and NRT (Nutritional Response Testing).
I enjoy seeing progress. When client's report relief, when they understand how they have been creating the problem and now understand how to steer themselves toward balance and out of pain I know we've reached a major summit toward wholeness.
The immediate pain cycle that presents itself when I see a client is the lead-in to a bigger picture. I'm interested in an overhaul to your system that will bring you to a higher level of function that stimpulates improvement over time. I'm interested in establishing a base of neurological intelligence that will allow you to be peacefully, self-supported as your life unfolds. I'm interested in giving you the tools for trouble shooting your own pain patterns no matter what the circumstance.
Tension is who you think you should be. Relaxation is who you are.
~Chinese Proverb