In person weekly classes are available on a drop-in basis.
Those unable to attend on-site can make arrangments to attend by remote audio.
Attendance throughout the month enhances the learning process by revisiting familiar
elements as you carry forth to the next level.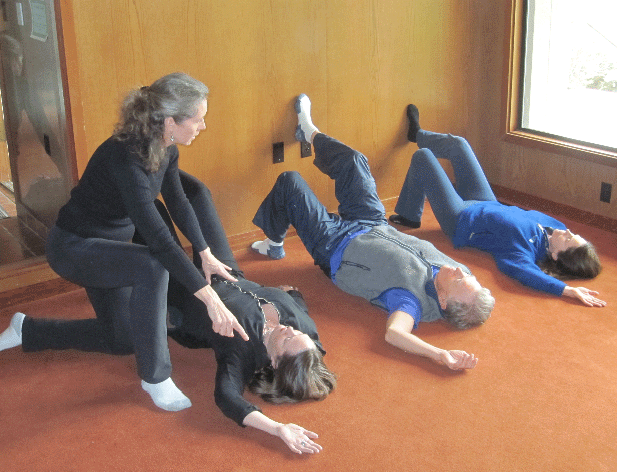 Awarenesss Through Movement (ATM) and Bones For Life (BFL) classes
develop a functional theme over the course of the month.

Class Location
Community Church of the Monterey Peninsula
4590 Carmel Valley Road
Carmel, CA 93923

Classes are held in the free standing
Outcalt Chapel.
Feldenkrais Awarrenetss Through Movement (ATM®)
& Bones For Life® Lessons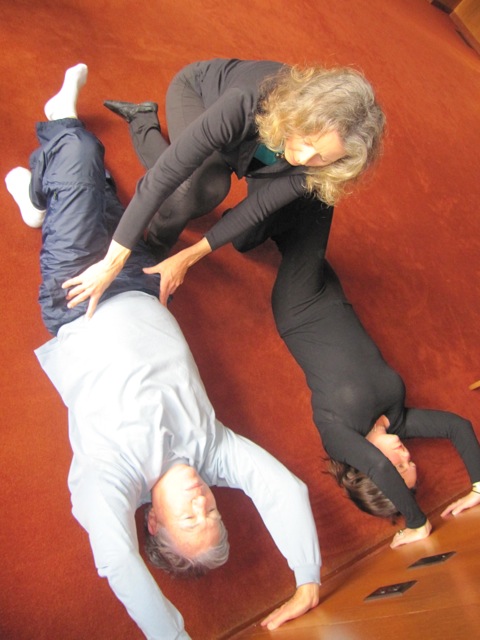 These classes draw upon the wealth of Moshe' Feldenkrais' Awarenesss Through Movement (ATM) lessons and the continuing evolutionary work of Ruthy Alon's Bones for Life (BFL).

Using verbal guidance each lesson is constructed to evoke more organized movement. In progressive, gentle sequence you gradually clarify inefficient, habitual movement patterns that cause strain and resistance.

The specific cues given in a lesson help guide you unwind years of habitual holding patterns while simultaneously clarifying new options for improved function. You'll reestablish your ability to move pleasurably and well. You'll develop fundamental self care that will shift you from pain to pleasure using the power of your daily movements. You'll awaken your innate movement intelligence to change how the brain has patterned itself over a lifetime.

Basically, when it hurts, you're doing something wrong. Finding the path of movement that will allow your parts to talk to one another allows a synchronicity, a flow to happen. These lessons teach you to find that flow - YOUR flow.

Pains go away, flexibility returns, calm vitality reawakens and, most importantly, you remember how to move intelligently. Your daily function becomes the pleasurable path to inevitable improvement.
"Establish a clearer communication with your organism and challenge it to improve." Ruthy Alon, Sr. Trainer
'Make the impossible possible, the difficult easy, and the easy elegant." ~Moshe' Feldenkrais
Feldenkrais® Meets Pilates Mat Class: FeldyMAT
Exercise Smarter, NOT Harder!

What is it?

This Feldy/MAT class will work to strengthen your core while keeping a fine-tuned eye on correct rehab functioning. This class combines Feldenkrais® movement lessons with MAT Pilates along with elements of a variety of somatic disciplines I've learned throughout my years of practice in order to create a class that evokes greater stamina without re-injury.

Who can benefit?

Those who:
have been on the roller coaster of rehab/reinjury
are negatively challenged by their traditional workout routine
are ready to listen to their body at a more refined level in order to retrain
optimal healthy function
want greater core strength
We'll replace the ideas of "powering through it" or "no pain, no gain!" with somatic intelligence. Exercise that combines the power of optimal alignment while honoring your subjective organization will evoke structural integrity, improved alignment and balance. Exercising in this manner also enables natural strength and considerable stamina. These lessons will underpin your daily function by creating improved ability to move well in your everyday function to sustain your progress.
Class Fees

Beginners Introductory Rate:
$5 for 1st Class
Drop-In Rate:
$17 for any Single Class (not BFL series)
$15 Single Remote Class

Monthly 4 Class Card Rate:
$60 (good for 30 days from purchase date)

Pay at the door or with Paypal (below)
Work trades, payment plans
available for those in need.
Information for New Students

All classes offered are first and foremost geared toward re-patterning your nervous system so that your normal movements improve your structural alignment and daily function that will continue day and night.The most important focus is for you to listen to you!

These lessons guide you to a higher level of comfort, strength and function by refining your sensitivity: the key to discovering optimal function.

Honoring your comfort level and not succumbing to ideas of following others or doing what you "should" do or "used to do when...." will enable you to engage playfully with the interesting challenges of a typical lesson. The power of this work is that improvement is discovered through pleasurable pathways. So, even though you are in a class with others, it really is all about you and no one else.

Enjoy coming home to yourself.